High Tunnel Greenhouses for your Crop Production Needs. -These High Tunnels have been approved by Michigan USDA NCRS Office for use in their High Tunnel Programs. Contact your Counties Local Office for More Details.

USDA NCRS EQUIP High Tunnel Program link Here.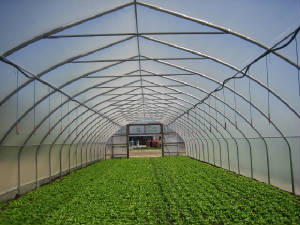 30 ft x 72 ft Freestanding High Tunnel
All parts are pre-drilled, easy to assemble, and are built with long lasting galvalume steel components. The roof's gothic peak helps shed snow.
Sizes
Framing
Available in 4' or 5' centers
2" dia. galvalume steel anchor post, side post, arches and peaks
30' houses have 5 runs of 1" steel purlins
All components are pre-drilled and swaged
Diagonal steel wind bracing
30' widespan houses have crop transfer braces every 8' or 10' Or Peak Tie Brace

Includes all necessary mounting brackets, fasteners and achor posts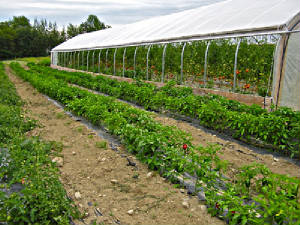 Roll Up Pipe Available for Ventilation During Hot Summer Days.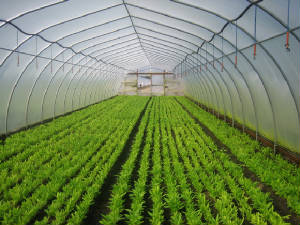 20ft x 96ft Gothic Hightunnel
Designed to cope with condensation run-off, shed snow and withstand harsh conditions while remaining stable.
Pre-drilled galvanized steel components
Easy installation-can be done in 1 day
High peak allows for improved snow shedding
The positioning of the side purlins accommodate the easy loading and unloading of stock from the sides.
Includes:
1-1/2" dia. x 36" anchor posts, swaged and pre-drilled
1-1/2" dia. gothic arches, swaged and pre-drilled
1-1/2" dia. center peaks, pre-drilled
3 runs of 1" dia. purlins
8 wind braces - 1" dia. punched
End arches and end peaks are 1-1/2" square for easy gable framing
All required fasteners
Sizes:
Available in 4' arch spacing

Please Call us for Custom Sizes and all available options.

Hormark, 302 S. Main St., Capac, MI 48014
800-482-4800 within Michigan
810-395-2075 Local calls or outside Michigan
Fax: 810-395-7985